July in the Sky: Celestial Events Happening This Month
With eclipses, meteor showers, and more, it's a busy month in the night sky this July. Take some time this summer to look up and enjoy these cosmic wonders.
Here are some brilliant events happening in the sky this month. Mark your calendars, find an outdoor sky viewing spot in your yard or on your rooftop (while practicing social distance, of course), and look up.
No outdoor space? No, problem. Check out Lowell Observatory's livestreams and watch from the comfort of your home.
July 4th: Penumbral Lunar Eclipse
July's full moon is called the Buck Moon, and on July 4th, there will be much more than fireworks in the sky. The moon will pass through the Earth's shadow. If you look up at just the right time in most of the US, you'll see this subtle celestial event.
Want a closer look? Join Lowell Observatory live at 8 PM PT for a Livestream with astronomers.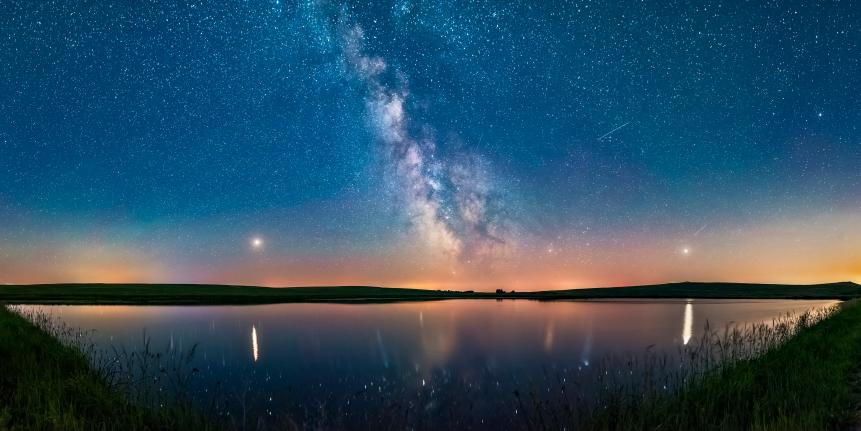 1192965777
A 160 degree panorama taken July 5/6 of the summer Milky Way and the array of summer 2018 planets over a prairie pond in southern Alberta, Canada. Mars is bright to the left, Saturn is dimmer and at centre in the Milky Way, while bright Jupiter is at right. Mars and Jupiter nicely flank the Milky Way, and cast glitter paths on the water. The arcing line joining the planets defines the arc of the ecliptic, always low in the south in northern hemisphere summer. Mars was approaching Earth and brightening at this time heading for a late July opposition. The sky is deep blue with solstice twilight. Several satellite trails punctuate the sky.
Alan Dyer/Stocktrek Images
July 13th: Jupiter in Opposition
During the night of July 13th, Jupiter, Earth, and the sun will align, making Jupiter look big and bright in our sky. This happens approximately every 13 months, and in 2020, the view is best seen well after midnight (pacific time). Lowell Observatory will be live starting at 9 PM PT with an interactive stargazing session.
July 20th: Saturn in Opposition
Just under 13 months ago, Saturn was big and bright in our sky and this year we have a special treat - a side of Pluto! Though still visible in the sky at night, the true moment of opposition is at 3 PM PT. Join Lowell Observatory live at 9 PM PT to get a better look at just how bright Saturn will look to us on this very day.
July 28th: Delta Aquariids and Alpha Capricornids Meteor Showers
Just before the close of the seventh month each year, the Earth makes a trip through some comet debris to create the meteor showers. Look up and this year, you may be able to catch two very special meteor showers happening on the same night!!
Keep up with Discovery.com to find out more about these two meteor showers and all other space news.