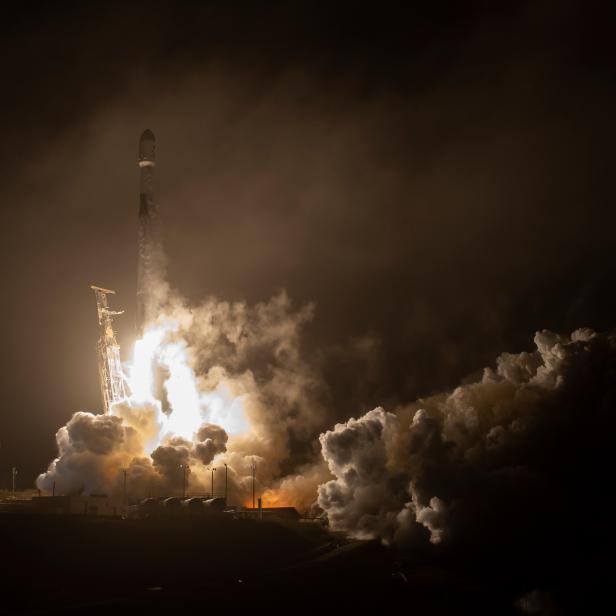 DART Launch
The SpaceX Falcon 9 rocket launches with the Double Asteroid Redirection Test, or DART, spacecraft onboard, Tuesday, Nov. 23, 2021, Pacific time (Nov. 24 Eastern time) from Space Launch Complex 4E at Vandenberg Space Force Base in California. DART is the world's first full-scale planetary defense test, demonstrating one method of asteroid deflection technology. The mission was built and is managed by Johns Hopkins APL for NASA's Planetary Defense Coordination Office. Photo Credit: (NASA/Bill Ingalls)
NASA's DART Mission Launches: Defending our Planet from an Asteroid
NASA's first mission to test asteroid deflection technology launched yesterday. DART, or Double Asteroid Redirection Test, is a mission to slam a rocket into an asteroid… hopefully altering its path.
On Wednesday, November 23, at 1:21 am ET, NASA launched the DART mission from Vandenberg Space Force base in California riding a SpaceX Falcon 9 rocket. This is the first-ever planetary defense mission in human history.
The DART spacecraft is 1,200 pounds, roughly the size of a refrigerator, and expected to crash into an asteroid named Dimorphos (at 15,000 miles per hour) between late September and early October of 2022.
If successful, this $324 million mission will demonstrate humanity's ability to redirect a potentially dangerous asteroid from slamming into our home planet. If the results are favorable, NASA may use this strategy in the future against an asteroid headed towards earth.
"We're doing this work and testing this DART capability before we need it," said Lindley Johnson, NASA's chief of planetary defense. "We don't want to be flying an untested capability when we're trying to save a population on the Earth's surface."
DART is now in its commissioning phase, as scientists monitor the rocket during the 30 days post liftoff. The spacecraft is equipped with a camera, called DRACO (Didymos Reconnaissance and Asteroid Camera for Optical navigation). NASA engineers plan to use this technology to take pictures starting eight days into DART's journey. These photos will help the probe define its course towards the asteroid in the days leading up to impact.
In a few years, the European Space Agency (ESA) plans to launch Hera, a spacecraft headed to the Didymos system to investigate the damage DART did to the Dimorphos asteroid.
Learn more about NASA's DART Mission