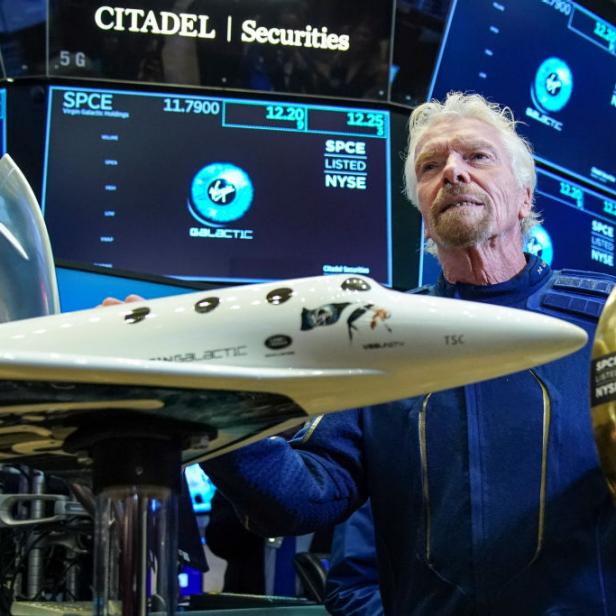 1178649356
NEW YORK, NY - OCTOBER 28: Â Sir Richard Branson, Founder of Virgin Galactic, poses for photographs before ringing a ceremonial bell on the floor of the New York Stock Exchange (NYSE) to promote the first day of trading of Virgin Galactic Holdings shares on October 28, 2019 in New York City. Virgin Galactic Holdings became the first space-tourism company to go public as it began trading on Monday with a market value of about $1 billion. (Photo by Drew Angerer/Getty Images)
Drew Angerer/Getty Images
Richard Branson of Virgin Galactic Successfully Travels to Space
On Sunday, July 11, around 11:30A ET, Richard Branson, the founder of Virgin Galactic, soared to the edge of space as a passenger aboard Virgin Galactic's VSS Unity. The space plane then landed safely at Spaceport America in New Mexico, making Branson's space tourism dream come true.
VSS Unity carried a full crew of six people to space made up of four mission specialists and two pilots including Richard Branson.
Beth Moses, Colin Bennett, Sirisha Bandla, Michael Masucci, Dave Mackay, and Richard Branson departed Spaceport America in the SpaceShipTwo vehicle attached to the mothership, VMS Eve.
The flight followed the same timeline and protocol as the previous test mission on May 22. VMS Eve, the carrier and launch platform for the VSS Unity carried the vehicle about 44,000 feet in the air. VSS Unity then detached itself from the mothership and switched to its own battery power beginning a rocket powered flight to the edge of space. The passengers aboard the VSS Unity experienced about four minutes of weightlessness and incredible views before returning to Spaceport America.
Following the landing, in a news conference, a smiling Richard Branson stated, "We're here to make space more accessible to all. We want to turn the next generation of dreamers into the astronauts of today and tomorrow. If you ever had a dream, now is the time to make it come true. I'd like to end by saying welcome to the dawn of a new space age."
Congratulations to Richard Branson and the Virgin Galactic team on a successful mission!