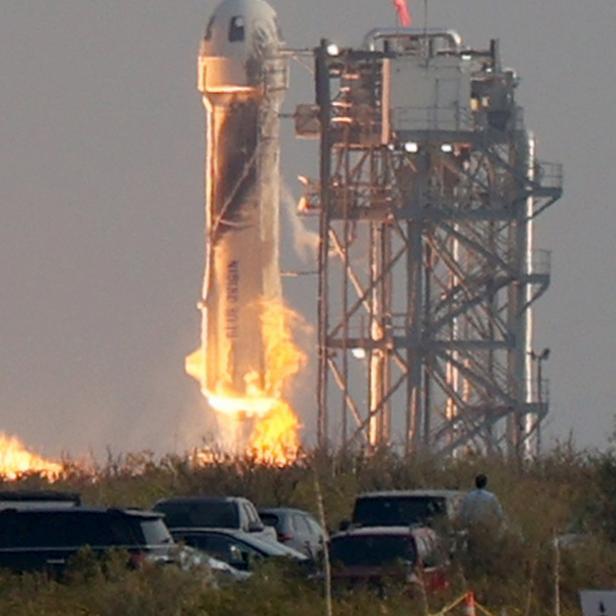 VAN HORN, TEXAS - JULY 20: The New Shepard Blue Origin rocket lifts-off from the launch pad carrying Jeff Bezos along with his brother Mark Bezos, 18-year-old Oliver Daemen, and 82-year-old Wally Funk prepare to launch on July 20, 2021 in Van Horn, Texas. Mr. Bezos and the crew are riding in the first human spaceflight for the company. (Photo by Joe Raedle/Getty Images)
Blue Origin's First Crewed Spaceflight Has Successful Liftoff and Landing
This morning, on July 20, 2021, Blue Origin's first crewed spaceflight was a success! Congrats to Blue Origin founder Jeff Bezos and three crewmates, who lifted off into space from Blue Origin's Launch Site near Van Horn, Texas. Here's the play-by-play of the New Shepard's approximitely 10 minute flight from launch to capsule landing, which looked picture perfect.
After years of meticulous planning, Blue Origin's first crewed spaceflight took off from a site in West Texas on Tuesday morning. This crew, included Blue Origin founder and Amazon CEO Jeff Bezos, Jeff's brother Mark Bezos, pioneering female pilot Mary Wallace "Wally" Funk, and college student Oliver Daemon. With this successful spaceflight, Funk (82) is now the oldest person to have flown in space and Daemon (18) the youngest.
Congrats to Blue Origin and Jeff Bezos on this huge feat for commerical space flight. Today marks the first time in history that a commercial company launched a privately funded and built spacecraft from a private launch range with astronauts on board. This milestone helps inspire the next generation and open the doors of future space exploration for scientists, researchers, and everyday people who dream of traveling to space but aren't your traditional astronauts.
Here's how the events played out from launch to capsule landing.
Photos of Blue Origin's Journey to Space
Billionaires are making their way to space, paving the way for the future of space exploration. Blue Origin's Jeff Bezos is ready for his first flight to space on Tuesday, July 20. Here is Blue Origin's journey to the final frontier.
Want more on the Blue Origin launch mission? At 10P ET tonight, Discovery will air a 1 hour special, JEFF BEZOS IN SPACE: BLUE ORIGIN TAKES FLIGHT, highlighting the morning's event, along with interviews from after the launch, behind-the-scenes material, and background stories of Blue Origins and Jeff Bezos.