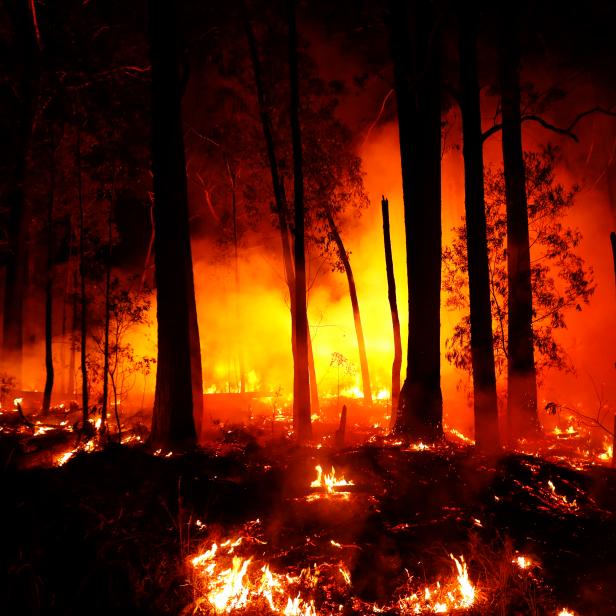 1197103171
MALLACOOTA, AUSTRALIA - JANUARY 02: Bushfires are seen between the towns of Orbost and Lakes Entrance in east Gippsland on January 02, 2020 in Australia. The HMAS Choules docked outside of Mallacoota this morning to evacuate thousands of people stranded in the remote coastal town following fires across East Gippsland which have killed one person and destroyed dozens of properties. (Photo by Darrian Traynor/Getty Images)
Australia Bushfires: How to Help
Help Discovery support victims and animals affected by devastating bushfires.
Since September 2019, wildfires have been roaring though Australia, causing a national crisis of widespread destruction and devastation. It is now estimated that over one billion animals' lives have been lost to the fire and over 10 million hectares of land have been scorched.
Discovery is helping to raise vital funds to support the people, communities, and wildlife affected by the disaster. You can help make a difference by donating to one of the organizations below. Every contribution will have an impact.
In addition to our other fundraising initiatives to support the bushfires, Discovery will match viewer donations up to $30,000. Our thoughts are with all affected communities.
The Australian Red Cross
Since July 2019, Red Cross teams have responded to 30 emergencies and supported well over 20,000 people, through the efforts of more than 1,600 volunteers and staff. They continue to help communities affected by bushfires through recovery programs and emergency assistance The organisation's Register.Find.Reunite service, which reunifies people who have been separated in the bushfire emergency, has registered over 30,000 people and taken more than 5,000 enquiries.
The Australia Zoo Wildlife Hospital
Thousands of displaced animals that have come through the doors of the Australia Zoo Wildlife Hospital – one of the largest wildlife hospitals in the world - founded by the Irwin Family. The state-of-the-art facility takes in animals from all over the country and is experiencing an influx of wildlife patients affected by the bushfires – particularly grey-headed flying foxes, a species vulnerable to extinction ."Our Wildlife Hospital is busier than ever." Bindi Irwin says, "My heart breaks for the people and wildlife who have lost so much."
RSPCA Australia
Heroic inspectors and staff from RSPCA Australia are operating in evacuation centres and regions affected by the bushfires to help protect animals, including evacuating them to safety. Once the fire zones clear, the RSPCA Australia Inspectorate will begin the difficult job of entering affected areas and assessing any injured animals. This includes the rescue and treatment of native wildlife and livestock who have been most affected by the fires.