Glaciers: Icy, Magnificent Giants
When photographing glaciers, the sense of time is on a different scale. Glaciers are a slow moving giant, carving mountains and valleys as it travels along and slowly melting into the landscape. I wonder to myself, can any photo ever really truly capture this?
I was 15 years old when I saw my first glacier on a family trip to Glacier National Park, Montana, though I never really got close to one. My mother was convinced that around every corner and on every trail, a grizzly bear lay waiting to tear our great American vacation apart. This meant we didn't ever venture terribly far from the car, and otherwise my only experience with a glacier was seeing a couple of them from quite a long distance away. I mostly just considered them beautiful snow fields tucked into the shadows of the mountain's couloirs.
We're sorry, there seems to be an issue playing this video. Please refresh the page or try again in a moment. If you continue to have issues, please contact us here.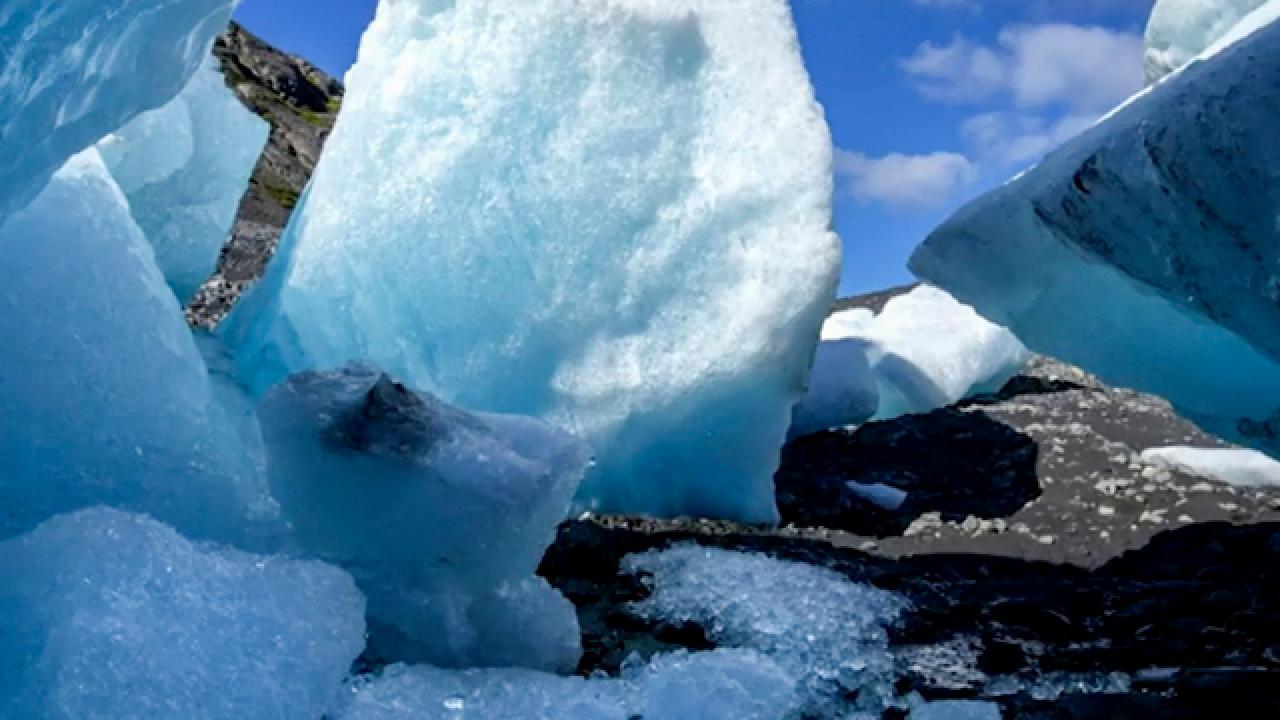 It was exactly 15 years later when I turned 30 that I saw my next glacier--except this time, the small plane I was traveling in was about to use it as a runway, sliding along the block of ice with skis where wheels would normally be. It was the Kahiltna Glacier in Denali National Park, Alaska, and I was here to photograph one of my first major assignments about a National Park Service search and rescue team. On this trip, there were no bears, just an endless vista of snow broken only by the occasional deep blue, mile deep crevasse you'd have to cross or go around, knowing that if you fell through it would be the last thing you do. The entire two weeks I was on the mountain, we lived on this glacier, more or less.
More than a decade later, I arrived in Kenai National Wildlife Refuge Alaska working with the US Fish & Wildlife Service to document this incredible refuge, including its glaciers. I no longer lived in fear of stalking grizzly bears or falling a mile down into an icy pit, but rather my energy and excitement were channeled into exploring the edge of one of these ancient icy giants, and truly understanding their magnificence.
As a photographer having documented many mountainous regions from Montana to Alaska, it's obvious to me that glaciers are the icy heart of the ecosystems they are part of. Each drop of water finding a path through the wilderness like an artery, giving life to forests, rivers, and people. I focus on this, trying to show the water flowing out, telling a story of water, a changing climate, and an ancient block of ice. I also find myself thinking about what the world will look like without glaciers.
Glaciers are the icy heart of the ecosystems they are a part of. Conservationist and Nature Photographer Ian Shive shares incredible glacial photography from all angles.
As a glacier retreats, the ground around it is barren for a short period of time until seeds start to sprout. This ground is often very dark colored, basically a newborn part of Earth that hasn't been seen for tens of thousands of years until this moment. The blue of the glaciers, which comes from densely packed ice crystals, when set against the dark ground provides ample opportunities to create dramatic imagery--the juxtaposition of bright colors and a monochromatic landscape.
One of the reasons I love photographing nature is that each fleeting moment is a new challenge to photograph, whether it is a ray of sun passing through an opening in a cave, cumulonimbus clouds building towers in the sky, a wild animal cautiously entering the scene from the edge of a meadow, or perhaps a comet traveling across the sky. Each of these are the extraordinary moments I wait for, and often only to have a few seconds to get the shot. But here, the sense of time is on a different scale with a slow moving giant carving mountains and valleys as it travels along, slowly melting into the landscape. I wonder to myself, can any photo ever really truly capture this?
Ian Shive is a photographer, author, film and television producer, and conservationist who has been praised as the "leading chronicler of America's national parks."