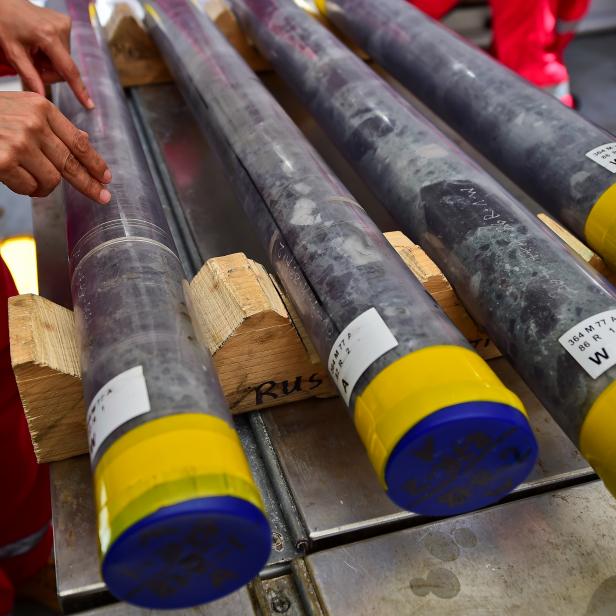 532023972
Scientists work with samples of rock in a laboratory in the L/B MYRTLE Offshore Support Vessel, -a scientific plataform working in the Gulf of Mexico- in front of the Yucatan State, in Mexico, on May 7, 2016. A scientific mission led by IODP (International Ocean Discovery Program) studies the Chicxulub impact crater on the Gulf of Mexico, created after an asteroid crashed 66 million years ago. The research aims to find evidence of the origin of the universe and the evolution of life on Earth. / AFP / RONALDO SCHEMIDT (Photo credit should read RONALDO SCHEMIDT/AFP/Getty Images)
The Chicxulub Crater, A Killer Asteroid, and an Extinction-Level Event
Core samples from the Chicxulub Crater paint a picture of the dinosaurs' last days.
65 million years ago, a massive asteroid crashed into Mexico's Yucatan Peninsula—a site now known as the Chicxulub Crater. This cataclysmic event that triggered a world-wide tsunami and disrupted global climates has been linked to the extinction of the dinosaurs and up to 75% of all other life.
A newly published study of rock samples extracted from the Chicxulub Crater's inner rim reveals a detailed look at what happened in the wake of this catastrophe. Though layers of rock accumulated over thousands of years are usually indicative of mere ticks on the geological clock, the Chicxulub Crater is different--hundreds of feet of sediment built-up rapidly in mere days. Here's what we've learned from the Chicxulub Crater samples:
The initial asteroid impact blasted a hole in the Earth approximately 30 miles deep and filled with molten rock and super-heated steam. Molten debris rebounded into the air and crashed back into the crater, causing massive waves of lava to surge outward and forming a massive ring of high peaks around the site. Within 20 minutes, seawater rushed back over these newly formed peaks and blanketed them with impact rocks and large debris. As the minutes turned to hours, the seawater—filled with shards of volcanic glass and splintered rock—deposited a layer of debris called suevite, which was buried by more finely graded debris and sediment in the following days. At the top of the rock core, scientists have detected traces of organic matter and charcoal—pieces of demolished land and life returned to the crater by the reflected tsunami—that help provide insight into what happened those millions of years ago.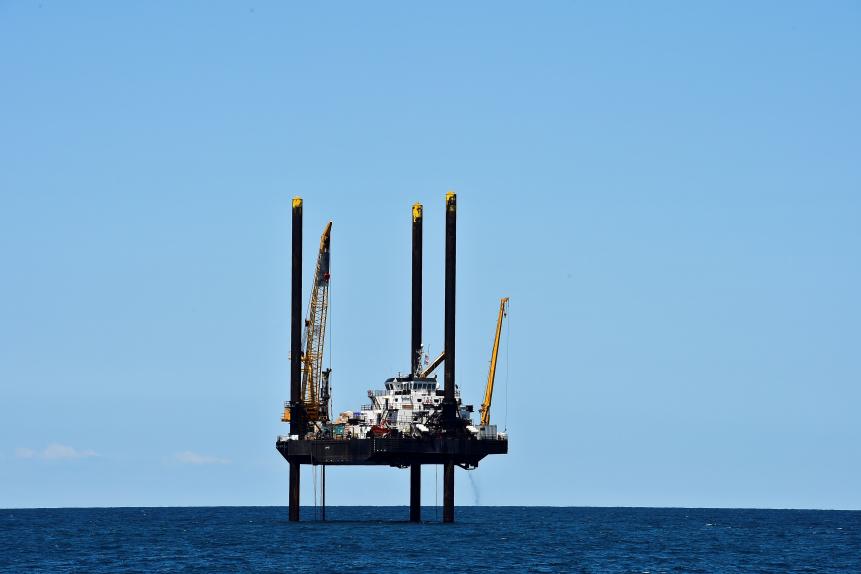 532023940
A picture of the L/B MYRTLE Offshore Support Vessel, -a scientific plataform working in the Gulf of Mexico- in front of the Yucatan State, in Mexico, on May 7, 2016. A scientific mission led by IODP (International Ocean Discovery Program) studies the Chicxulub impact crater on the Gulf of Mexico, created after an asteroid crashed 66 million years ago. The research aims to find evidence of the origin of the universe and the evolution of life on Earth. / AFP / RONALDO SCHEMIDT (Photo credit should read RONALDO SCHEMIDT/AFP/Getty Images)
University of New Mexico geologist, James Witts said to Smithsonian.com, "This isn't the first drill core from Chicxulub, but because of its position on the peak ring, which is essentially a range of mountains created in the moments after the impact event, it provides a really unique picture of the sort of dynamic geological processes that operated over short timescales."
As geologists continue to explore the crater to develop an understanding of Earth's incredible history, NASA looks to the stars, mapping the orbits of nearby asteroids and celestial bodies for signs of potentially world-ending collisions.