Nothing Says Love Like Naked and Afraid
Watch new episode of the wildest show on television with special early access on discovery+.
For anyone who didn't have Valentine's Day plans already, prepare to get weird and wild with a new season of NAKED AND AFRAID
Start streaming all new episodes of NAKED AND AFRAID now on discovery+ and tune in February 14 for an all day marathon on Discovery.
The ultimate survival challenge returns with three all-new, early premieres of NAKED AND AFRAID on discovery+, the definitive non-fiction, real-life subscription streaming service. A new lineup of survivalists from around the world will take on the 21-day challenge to test themselves against the wilderness. Stripped from head to toe, all they are allowed to bring is one survival item. The physical and mental exhaustion causes some duos to turn on each other and others to bond together to complete the challenge.
From the punishing Namibian desert to the brutal black water swamps of Florida, the early premieres of NAKED AND AFRAID follow three pairs of survivalists as they endure harsh elements, vicious predators and each other in the ultimate battle between mankind and Mother Nature. Threatened by venomous snakes and dangerous wildlife, a hard-headed homesteader and an elite military alpha-male will be pushed to their limits. An Australian bushman and American biologist form an intimate bond during their challenge, but their relationship is tested as they search for scarce food and are tracked by territorial baboons. South Africa's aggressive scorpions and burrowing ticks attack the survivalists in their most vulnerable places. With their challenge at risk, the pair must band together to have a chance at success.
Don't miss three all-new episodes of NAKED AND AFRAID as they premiere early on discovery+ beginning Sunday, January 31. In addition to watching NAKED AND AFRAID on discovery+, Discovery Channel will air a special block of love and relationship shipped vintage episodes on Valentine's Day, Sunday, February 14 from 1P-11P. Viewers can join the conversation on social media by using the hashtag #NAKEDANDAFRAID and following Naked and Afraid on Facebook, Twitter, and Instagram.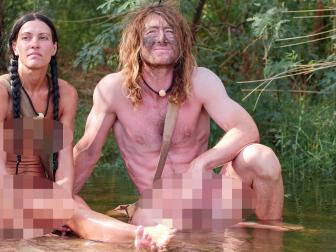 Two strangers attempt to survive for 21 days in the wild... naked. Varying degrees of afraid. See who has what it takes with new episodes streaming on discovery+.
Your favorite shows, personalities, and exclusive originals, all in one place.