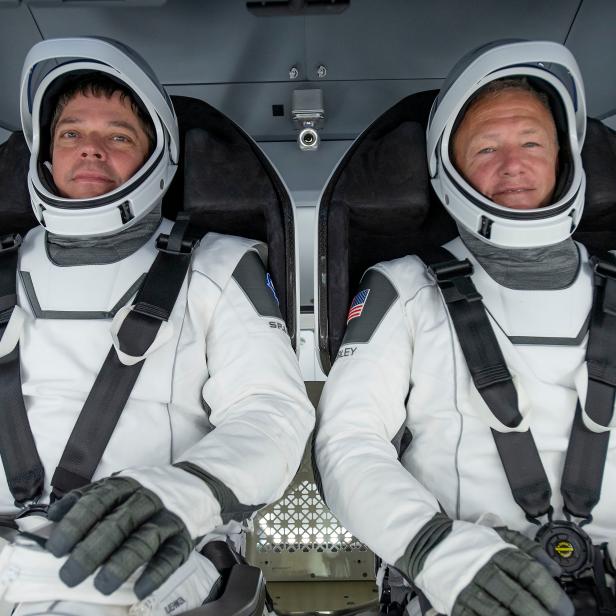 SpaceX CEIT Testing
On Monday, March 30, 2020 at a SpaceX processing facility on Cape Canaveral Air Force Station in Florida, SpaceX successfully completed a fully integrated test of critical crew flight hardware ahead of Crew Dragon's second demonstration mission to the International Space Station for NASA's Commercial Crew Program; the first flight test with astronauts onboard the spacecraft. NASA astronauts Bob Behnken and Doug Hurley participated in the test, which included flight suit leak checks, spacecraft sound verification, display panel and cargo bin inspections, seat hardware rotations, and more.
SpaceX Crew Dragon Undocked and Ready to Return
NASA Astronauts Bob Behnken and Doug Hurley return to Earth somewhere in the ocean near Florida after just over two months at the International Space Station. The first step was completed today at around 7:30 P ET, with a successful undocking from ISS. Follow the journey on SPACE LAUNCH LIVE: SPLASHDOWN on Discovery on August 2 starting at 1P ET.
"Will they or won't they" was the question for hours prior to undocking at the ISS. NASA Astronauts Bob Behnken and Doug Hurley were waiting for the official 'Go' signal from ground control whether or not the undocking would happen. Weather conditions here on Earth in the area of tomorrow's splashdown haven't been the best, but as of early evening on Saturday, the astronauts are on their way home. We followed closely with word from NASA as the tough decisions were being made.
Now that Astronauts Bob and Doug have undocked from ISS, the journey to Earth is estimated to occur tomorrow afternoon eastern time. Check out this awesome video from NASA with the actual moment of undocking, beginning their trip through the Earth's atmosphere.