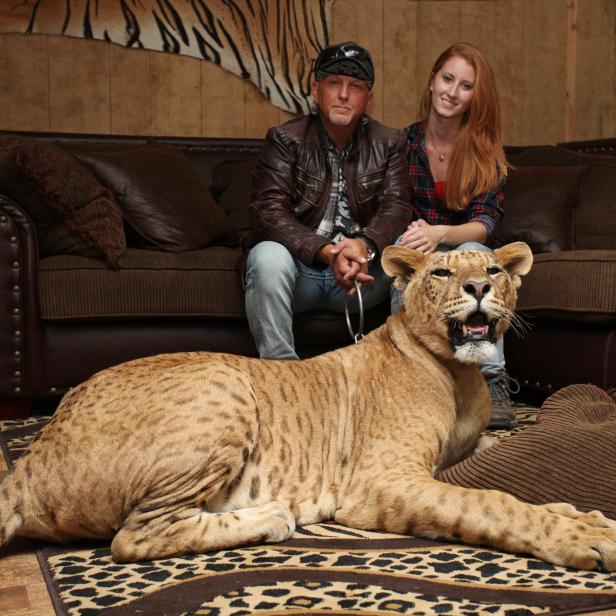 632150196
*** EXCLUSIVE - VIDEO AVAILABLE *** WYNNEWOOD, OK - SEPTEMBER 28: Jeff Lowe and Lauren Dropla with Faith the liliger at their home inside the Greater Wynnewood Exotic Animal Park on September 28, 2016 in Wynnewood, Oklahoma. ANIMAL lover Jeff Lowe provides care and shelter to more than 220 big cats - and they live in his back garden. 51-year-old Jeff owns the Greater Wynnewood Exotic Animal Park in Oklahoma, one of the largest private zoos in the world that rescues and protects over 500 wild animals, from tigers and lions to bears and crocodiles. Jeff, a multimillionaire, spends his days closely interacting with the most dangerous animals, walking them on leads inside his cabin house and laying in and around their enclosures he even takes his smaller tigers to the vets in his Ferrari. Lauren Dropla, Jeffs 25-year-old fiancé, offers a helping hand with looking after their exotic pets and maintaining the park on a daily basis. PHOTOGRAPH BY Ruaridh Connellan / Barcroft Images London-T:+44 207 033 1031 E:hello@barcroftmedia.com - New York-T:+1 212 796 2458 E:hello@barcroftusa.com - New Delhi-T:+91 11 4053 2429 E:hello@barcroftindia.com www.barcroftimages.com (Photo credit should read Ruaridh Connellan/BarcroftImages / Barcroft Media via Getty Images)
Jeff and Lauren Lowe are Permanently Banned from Exhibiting Animals
This comes after the documentary stars and self-proclaimed rivals of Carole Baskin were accused of animal abuse and neglect.

Stream Carole Baskin's Cage Fight on discovery+.
Former owners of Wynnewood Exotic Animal Park, Jeff and Lauren Lowe, have been permanently banned from exhibiting animals. A federal judge issued the prohibition last Thursday after authorities accused the Lowes of violating the Endangered Species Act (ESA) and Animal Welfare Act.
The couple is now permanently barred from owning, transporting, or exhibiting "any ESA-protected animals that have been unlawfully taken." Since May 2021, U.S. authorities have seized more than 140 animals from the Lowes.
"Together, this consent decree and default judgment resolve the claims in a civil enforcement action brought by the Department of Justice to address the Lowes' recurring inhumane treatment and improper handling of animals protected by the Endangered Species Act (ESA) and AWA," reads a press release from the Department of Justice.
The park first came under investigation when animal rights activists shared photos and videos of juvenile lions suffering from medical neglect.
"USDA is very proud of the hard work of our inspectors. It was their skill and expertise that allowed us to safely relocate all of the animals and end the mistreatment that was occurring at this facility," said Deputy Administrator Dr. Betty Goldentyer of USDA APHIS's Animal Care Program.
The exotic animals, which include tigers and lions, will be moved out of their care to be housed elsewhere. This comes after Joe Exotic, the previous owner of the park, was jailed and ordered to forfeit his 16-acre property to Carole Baskin's Big Cat Rescue Corporation.
Stream Carole Baskin's Cage Fight on discovery+ to learn more about her mission to protect Big Cats and end animal abuse forever.
Carole Baskin is on a mission to protect Big Cats and to stop the abuse of Big Cats forever. CAROLE BASKIN'S CAGE FIGHT is streaming now on discovery+.
Enjoy a first look at the two-part documentary series that follows Carole Baskin as she finally shares her story and goes undercover, along with her husband, Howard, and their team.
Carole Baskin did the unthinkable and opened the floor to questions from social media's toughest audience. She answered everything from what she thinks happened to her husband to what can we expect from her new docu-series on discovery+.