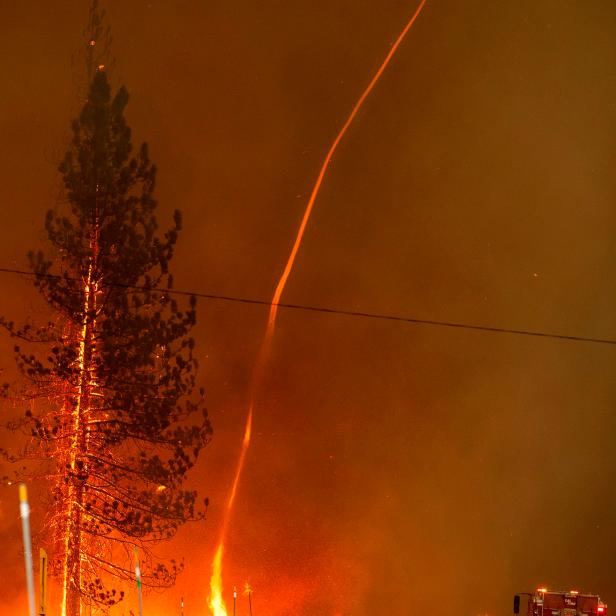 1227713485
A fire whirl shoots into the sky as flames from the Hog fire jump highway 36 about 5 miles from Susanville, California on July 20, 2020. - The fire exploded to more than 6,000 acres and created its own weather, generating lightning, thunder, rain and fire whirls out of a huge pyrocumulonimbus ash plume towering above. The Lassen County Sheriff's office issued a mandatory evacuation order for the area. (Photo by JOSH EDELSON / AFP) (Photo by JOSH EDELSON/AFP via Getty Images)
Wildfire Destruction Amplified by Fire Tornadoes
Escalating temperatures and high winds come together in late summer to create the perfect firestorm. For the past several weeks, wildfires have been plaguing the western United States and there is one additional red flag - tornadoes.
Fire tornadoes happen when large smoke clouds from active wildfires meet high winds to cause atmospheric cyclones that are able to push a fire further than its current boundaries. This phenomenon has occurred more times than one over the past few years in locations around the world where wildfires have caused massive, deadly destruction - like California and parts of Australia.
As of Monday evening, August 17, the Loyalton Fire burned to nearly 40,000 acres and was only 10% contained near the California/Nevada border, north of Reno. Prior to this benchmark, over the weekend five weather patterns were spotted in the atmosphere above the Loyalton Fire that caused alarm. Dawn Johnson with the National Weather Service in Reno, NV received reports of fire tornadoes in Lassen County, quite close to her station in Reno.
Ms. Johnson spoke to the New York Times and mentioned some of the major difficulties with fire tornadoes. They are a true Russian doll of natural disasters, created out of perfectly destructive conditions. The in-progress damage caused by the fire exists inherently, "It's not like a typical tornado where it happens, everything clears out, and you safely go and investigate..." she said.
Locals took to social media to express a sense of fear and sometimes irony about just another thing that 2020 has to offer. These brave residents, some evacuating the area as the fire continued to burn, didn't waste any time capturing this truly horrifying scene in Northern California.
Tackling rapid and destructive wildfires before they can spread over wide areas is one of the most pressing challenges for firefighters today.
From the Amazon basin to northern Siberian forests, the wildfires are spreading. However, the technology used to tackle large area fires has become more sophisticated to respond to this threat.
Though the fire tornado is not new or special to this specific fire, we have to give it to the people of Northern California and the firefighters who don't need this added bit of horror. Signs of possible fire tornadoes continue to pop up as this fire progresses. As the 2020 fire season continues, we hope the technologies being developed by scientists all over the world aid the boots on the ground to fight and prevent these terrible fires.