Ready, Set, Pup! Introducing Puppy Bowl XVIII
​​Everyone's favorite game is back in action! PUPPY BOWL is back with more ear pulls, tail tugs, sloppy kisses, and touchdowns you won't want to miss. Get ready to cheer on the puppy players of Team Ruff and Team Fluff as they give it their all.
PUPPY BOWL celebrates adoptable pups in all their cuteness and showcases the incredible shelters and rescues, as well as their staffers, who dedicate their lives to helping animals find their fur-ever loving homes.
This year an astounding 67 shelters and rescues from 33 states bring more than 100 incredible adoptable puppy players out to sport their TEAM RUFF and TEAM FLUFF bandanas. Watch these players give it their all to chase, fetch, guard, heel, and sprint to the end zone.
These puppies can't wait for PUPPY BOWL XVIII! Here's this year's full player line up. You can watch these players take it to the field as Team RUFF take on Team FLUFF on Sunday, February 13 at 2p ET on discovery+ and Animal Planet.
Fans will get to see these canines' devotion to the game as they put their tricks to the test to score touchdowns and a possible chase of the tail.
The PUPPY BOWL XVIII Pre-Game Show begins at 1PM ET where fan-favorite PUPPY BOWL sportscasters Rodt Weiler, Sheena Inu, James Hound, and field reporters Mini Pinscher and Greta Dane provide the inside scoop on this year's Puppy Bowl Draft ahead of the big game.
And of course, we have Dan Schachner, PUPPY BOWL's official and favorite Ruff-eree,
returning for another year of calling the puppy penalties, ruff stumbles & tumbles, and awesome touchdowns for a game unlike any other. Dan is ready for the ultimate puppy showdown and fans will hear all these calls and more from returning commentators Steve Levy and Taylor Rooks as they give us the play-by-play coverage of the rambunctious pups of Team Fluff and Team Ruff as they frolic, jump, dive, and occasionally snooze their way to victory.
Meet the Players of Puppy Bowl XVIII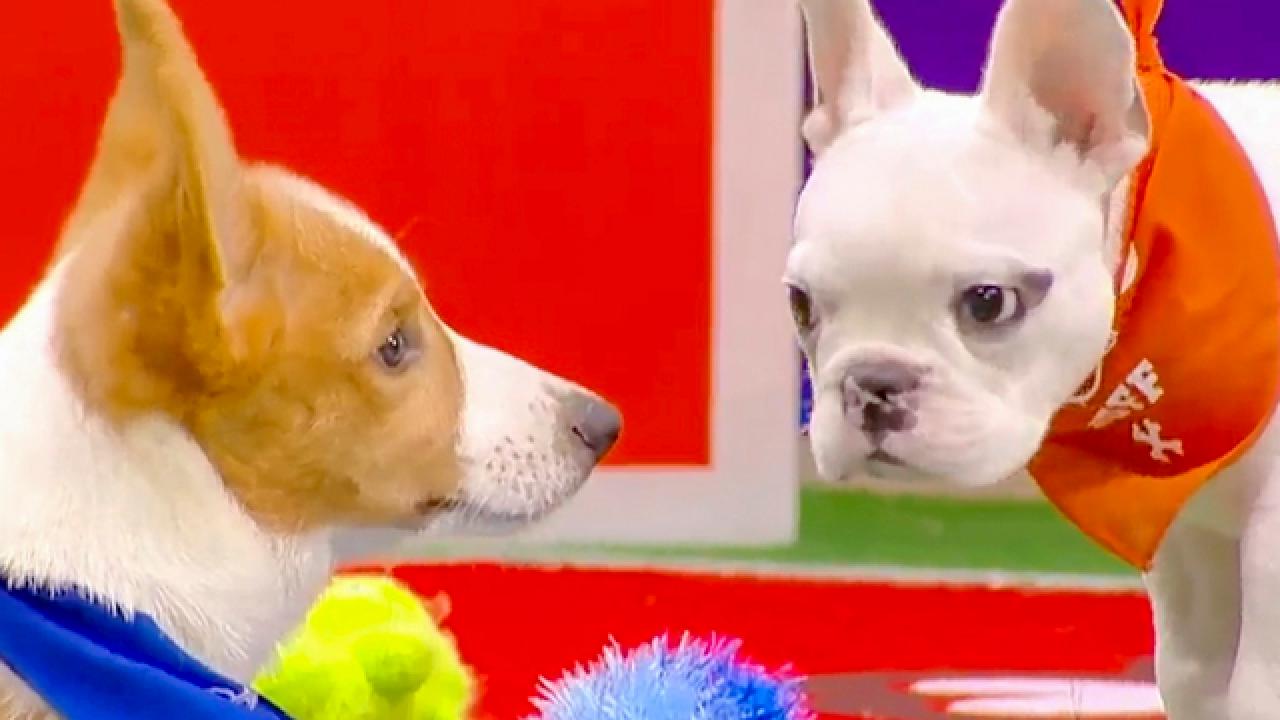 In addition to these unforgettable moments, put your paws together midway through the game for the KITTY HALF-TIME SHOW as adoptable kittens dance their way through a purr-fect beach party. At this ocean-side getaway, audiences will
experience the beach-tastic party with these felines having some fun in the sun and learning about their heartwarming adoption stories.
This spectacular 3-hour even streams on discovery+ and airs on Animal Planet Sunday, February 13 at 2pm ET.